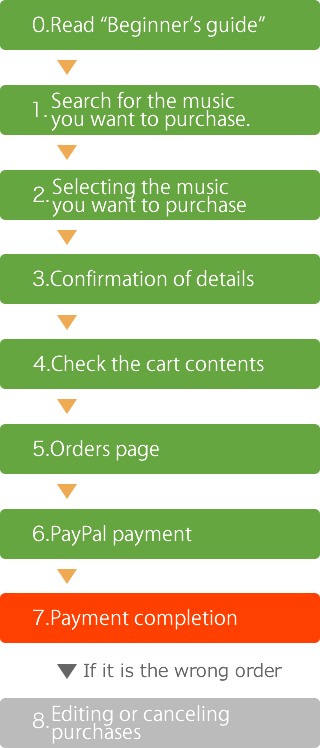 0. Read "Beginner's guide"
Those purchasing goods for the first time must read beginner's guide before continuing.
1. Search for the music you want to purchase.
You can search by title, key words or through an advanced search.See here for
this process
.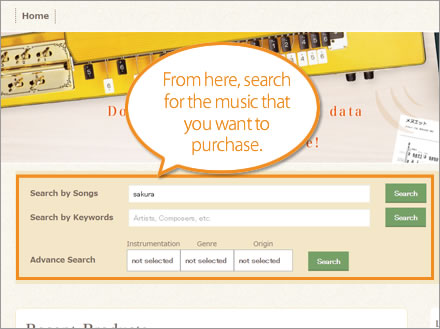 2. Selecting the music you want to purchase
Click the music title you want to purchase.
※If you want to purchase without seeing the details , click "Add to Cart" . (Please proceed to 4)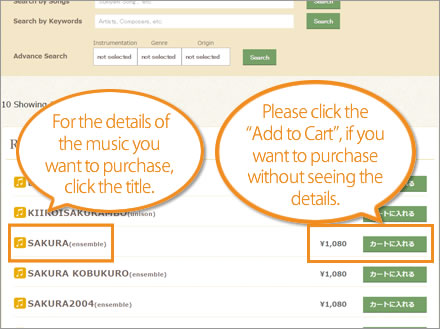 3. Confirmation of details
Check the details and confirm that there are no mistakes in your order.
Keep in mind that some songs are presented in two formats: "Unison" and "Ensemble".
Click "Add to Cart" after checking the details.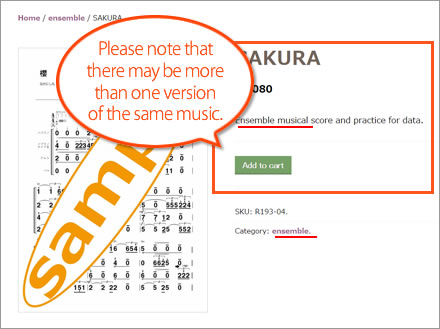 4. Check the cart contents
Make sure the correct contents are in the cart.
If you want to remove from the cart, click the "×" mark on the left side of the selection, and it will be deleted.
If there are no mistakes in the cart, click "Proceed to Payment".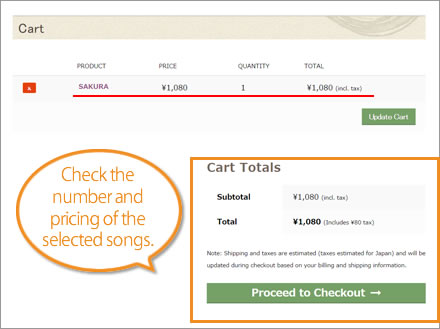 5. Orders page
For the beginners: You need to input following information.
"family name" "first name" "e-mail address (for confirmation)" "password "
※Please create an account password first.
Please avoid password, such as "11111", "ABCDE" and date of birth. (Recommended: 5 or more characters that are a mixture of alphanumeric characters)
Click the "Payment" after double checking.
※Double check your details and proceed to the next page. After this page, orders cannot be edited.
Our payment method is Pay Pal. You can pay through Pay Pal with your credit card.
6. PayPal payment
Click the "pay from your PayPal account" if you already have a Pay Pal account.
※PayPal account will be required for the payment. Please note that this is different from the shop account.
On the next page, enter the "e-mail address" and "PayPal password", and then click on the "Login" button.
On the next page, click "agree to pay" after checking the contents.
Click "Pay with a credit card" if you do not have Pay Pal funds.
On the next page, if using a credit card, enter your credit card number, billing information and some other information as required. Click "Pay" after double checking the information you provide.
*(Added in 2020)
Currently, due to changes in the PayPal guidelines, it is no longer possible to use credit cards in Japan without registering for PayPal.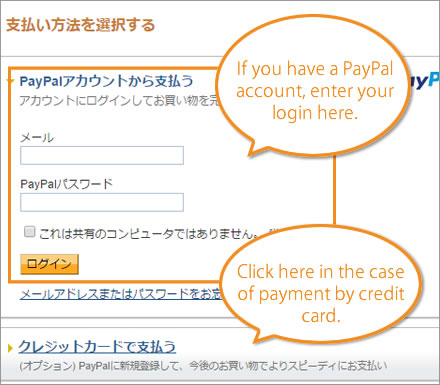 7. Payment completion
Your order will be sent to the e-mail address previously provided.You can download your purchased content by clicking on the file name.
The music files are MIDI and the scores are PDF.
You can also download your purchased content directly from your Kingen account page.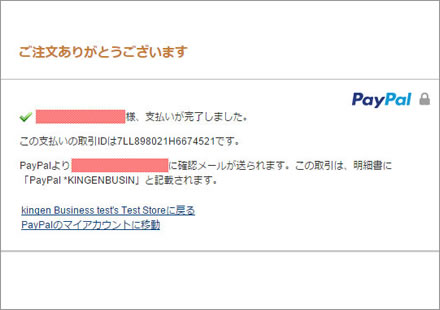 8. Editing or canceling purchases
Once you have received download permission, cancellation or change of purchase will not be accepted due to the nature of digital download. Please double check your orders before you complete your shopping.
Thank you for your understanding.